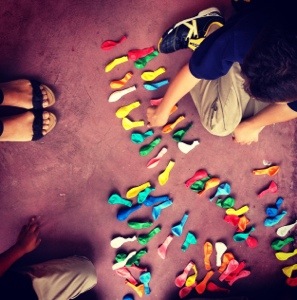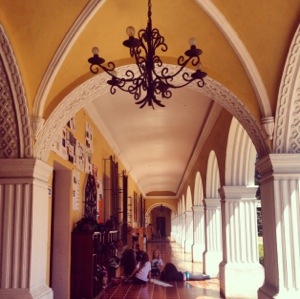 In my wilder days, back when I was determined to never work for someone else and when I stubbornly laughed in the face of "two weeks off a year", I was convinced I would never fold and take a desk job. I only wanted to operate on my own schedule, and most of all, travel when and where I wanted to. Until my late 20's, I had stuck to my personal promise and had found a sustainable way to work for myself as an artist and a traveler. But, I also began to feel the need to work for something bigger than just me; I wanted to have a career that would make me feel needed, busy, more financially secure (with a salary), surrounded by community, and in which I would see positive results of my efforts, daily. I had always loved teaching and working with children, but I had been reluctant to commit for a number of reasons. But finally, I decided to go back to school and get my teaching credential, and in the end, it has absolutely paid off primarily for the fact that it has allowed me to travel abroad while working.
In the last 7 years of my life as a teacher, I have been able to accomplish, see, and experience things that no other job could have offered. I don't believe teaching is "my life" and I don't intend on being a teacher for much longer, but for now, I am good at it, I give it my all, and I appreciate the career for the doors it's opened to me. And that is what's so great about life and evolving and growing as a person – change is necessary and healthy, and teaching has been a means to an end for me to live the life I've wanted. I've recently been talking to so many 20-somethings who are trying to figure out "what to do with their life", adults considering career changes, people who are sick of the grind and want to travel, stay-at-home mom's who are ready to start working again, the list goes on.  So I've compiled a list for all of them and to anyone else considering a teaching career, about how it is a feasible career for that person with wanderlust, an incredibly well structured career for a parent, a non-typical desk job, and also, I share some honest truths of what being a teacher, actually entails.
The Myths & Truths (and Pros & Cons) of Teaching

Myth: There is a huge supply of teachers and not enough demand. Teachers are getting pink slips left and right, and I'll have to work in an environment that is not appealing to me just to get a some real experience and a job fresh out of my credential program.
Truth: As someone who graduated from my credential program in 2010 at the peak of layoffs, I can assure you that all of my fellow-teachers were wrought with worry and nerves upon graduation. But for me, getting a job was simple and easy. This is because I wanted to go abroad, and at the time I knew it would be to Panama. Before I had even officially graduated from my credential program, I traveled to Panama for 5 days to explore job opportunities. By the end of my short trip, and after three great interviews with international schools in Panama City, I was offered three desirable teaching positions. Is teaching an impacted career field? Yes. But if you're willing, able, and/or interesting in looking beyond your front yard, teaching abroad is an ENDLESS world of opportunity. Teachers who are credentialed in the U.S. are in high demand in international/"American" schools around the globe. Even if you don't have many years of experience, the possibilities are vast. I have gone from graduation to Panama to Guatemala without even breaking my stride, or breaking a sweat in terms of job opportunity. I have friends who teach at international schools in Mexico, Colombia, Vietnam, Saudi Arabia, Italy, and beyond. They make competitive salaries, travel on their weekends and breaks, and are gaining amazing teaching experience at well-funded, forward-thinking, inspired schools that are comparable to every one of the private/independent/public schools I worked for in the San Francisco, Bay Area.
PRO: If you attend job-fairs for teachers, you will see many stands that are offering teaching experiences abroad. If hired to teach abroad from the U.S., most international schools will not only offer you a competitive salary relative to the cost of living in that country, but they will also pay for your move, provide health insurance, and often give you a living stipend per month to apply towards rent, groceries, etc.
PRO: If you are a travel-lover like me, teaching abroad is the perfect way to not only travel but to EXPERIENCE what it means to live in a different place, make friends there, build a community, adapt, explore, learn a new language, and understand the culture of your new city in a way that a trip just passing through could not allow.
CON: Most international schools will require a 2 year contract, so you are bound to your commitment for two school years.
Myth: You don't make much money as a teacher.
Truth: While it's hard to say this is a myth (it's not) most teachers can make sufficient money for a single person living independently. Teachers in the U.S. can make anywhere between 45-70K a year while receiving health benefits and often a retirement plan. Teachers abroad make a wider range of 15K-60K depending on the country, but always a salary that is comparable to the cost of living and quality of life. In Panama, I made 21K a year, in Guatemala 17K a year – personal information I know, but this is supposed to be informative! While those salaries sound shockingly low (and I would be lying if I said they weren't) you must also realize that for the cost of living in each country, it is much more of a livable wage especially when working for a school that also helps to pay for your move abroad and gives a living stipend. Additionally, when you consider the time off that a teacher has within a calendar year, this is not so bad. With a master's degree, a teacher can earn about 10K more a year than a teacher without one, in the U.S. as well as abroad.
Pro: There are so many ways to maximize your talents and credentials to earn extra money during your breaks or after school/on weekends if you are hell-bent to make more cash: private tutoring, extra-curricular teacher, camp counselor, summer school, to mention a few.
Pro: If you are a parent and a teacher in a private/independent school, tuition for your child/children is often either waived entirely or you receive a large discount. This will make a direct impact on your finances and will save a great deal of money, especially when considering that many U.S. private schools and International Schools can be a yearly tuition upwards of 20K/per year, per child, beginning in Kindergarten.
Myth: Teaching is so "cute". You get to play with kids all day!
Truth: Teaching can be incredibly fun and creative, but it is NOT an easy job, and it definitely aint "cute", especially from the perspective of classroom and behavioral management. Most teachers will have a class size ranging from 18-30 students, ALL DAY LONG, all with their own individual learning needs, strengths, emotional baggage, empty stomachs, lice, attention deficit, unique abilities, colds/coughs/stomach bugs and ever-changing needs that need constant assessment and review. It may be cliché at this point, but it's so true that a teacher plays the role of police officer, parent, health counselor, law enforcer, judge, nurse, psychiatrist, and on top of it all, educator, on a daily basis.
Myth: You work from 8:00-3:00.
Truth: Depending on the type of teacher you are, you will likely work incredibly hard from 7:30-4:30 and sometimes on weekends. You will not have breaks during the day except for those in which you are prepping for your next lessons, doing recess duty, meeting with other teachers or parents, or eating a quick lunch that you brought from home because you don't have enough time to leave campus and buy it.
Con: If you are a parent, like me, sometimes coming home after being with 20 children all day can wipe you out and leave you with less energy and maybe even patience for your own little one than you would prefer.
Con: Teaching is an all-encompassing career and requires your physical, mental, and emotional presence and energy at ALL times. This can often (especially in your first few years of teaching) lead to little personal time in which you are doing things you love. In fact, this is the precise reason that I haven't written a post for 6 weeks!
Myth: You get three months off for summer, a month for Christmas break, and two weeks for spring break.
Truth: For most teachers, the accumulative time off adds up to be about 12 weeks per year, depending on the school.
Pro: If you are a parent (or plan to be) you will be on the same holiday/vacation calendar as your child/children. This saves you time, money, and a whole lot of schedule juggling. Plus, if your child attends the school where you teach, you get to see them throughout the day and/or know they're right down the hall.
Con: Because most schools/administrations know that you have approximately 12 weeks off a year, most teachers are only allotted 2 personal days during their 180+ school days. This doesn't always include leaving for medical appointments but sometimes it can. Sick days are usually limited but some schools don't put a max on that. All schools are different, but one thing is for sure, you can't just get time off any old time you want.
Con: Even if you are approved to take time off for whatever reason, making substitute plans is just about the one thing every teacher across the world despises. It entails an insane amount of time, thought, photocopying, and scheduling just to leave your class in the hands of someone who won't otherwise be getting a paper airplane in the eye. In fact, most teachers I know dislike making sub-plans so much that they would prefer to just come to school sick instead of taking all the extra time it requires to plan a productive day in their absence.
Myth: Teaching is not a "desk job".
Truth: No, while I would not say the life of a teacher is definitely not a mundane, number-punching desk job, there are still many elements of teaching that go far beyond the creative lesson planning and holistic activities. Teaching involves a ton of paper work, filing, assessing, researching, reading/learning new methods and curriculum, reflecting, meetings upon meetings, email communication with administration, faculty, and parents. Report card writing alone can involve HOURS of computer work, spreadsheets, and rubrics and a whole lot of the busy work that is overlooked or unknown if you haven't been a teacher before.
Myth: It doesn't take long or much money to become a teacher.
Truth: Getting my teaching credential was the most intensive process I've ever gone through. After 4 years of undergraduate studies, I spent hours upon hours at night and on weekends attending classes, seminars, and meetings, doing endless reading and homework, being observed by peers, mentors, and professors, and studying for a brutal exit exam for two years straight, WHILE teaching full-time, just to get my preliminary teaching credential. I went into debt to pay for my student loans and am still far from paying them off.
Con: Teachers are constantly being evaluated and in order to maintain a valid standing, we must pass endless exams, security checks, and constant renewals of credentials.
Pro: There are many state and private programs that offer scholarships, free tuition, and aid to teachers who commit to teaching in a certain field (special education for example) upon graduation.
Myth: Teachers are saints, selfless, and modest.
Truth: While any teacher wants to be legitimately recognized for their hard work and efforts, not all teachers are saints and we don't (all) do this to job just to do good service to our community.
Pro: Teaching is absolutely a rewarding job, you see results everyday, you change lives, you influence others, and you receive the love and admiration of many young students.
Con: For what our jobs entail, for the energy, dedication, specialization, schooling, and commitment that it takes to be a teacher, we don't make very much money.
In closing, I would absolutely LOVE to hear from fellow teachers about your personal opinions regarding this post. What do you support or agree with that I've written? What do you disagree with? The more feedback we get, the better – I'd love to hear your thoughts!