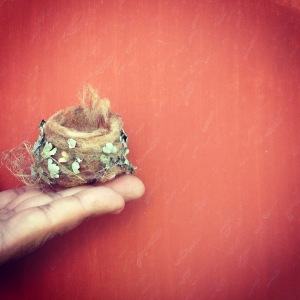 This morning, barefoot and in my sweats, I waved Joaquin goodbye as he went off to school. I happened to look down from where I stood and there, right in front of my toes, was the tiniest bird's nest I've ever seen. I gently swooped up the little nest no bigger than a plum, and held it carefully in my hand. It may seem a funny thing that this nest could have given me such a wave of inspiration, but it did. Somehow, this weightless work of nature made me think of so many moments in the last three months of my life, and made me want to write them all down. My life since August, my life as a mother of two children, has been somewhat indescribable. The ups and downs of delivering a premature and sick baby who was so small, so fragile, so exposed. The relief that she has grown so healthy and so strong. The attention to every detail, the dedication, the exhaustion, the emotion, the vulnerability, the love, the work it takes to be a mother. The beauty of it all.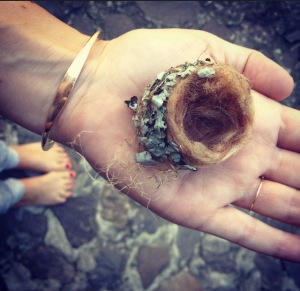 I haven't written in a long time. Life and circumstances haven't exactly allowed me the space to do so. But, this morning I was moved to start writing again. As I examined the intricacy of every thread, hair, and soft twig, I was inspired to continue crafting and piecing together stories of my life, perfect or imperfect, just as this sweet bird so carefully pieced together her nest without hesitation, without over thinking it, and yet did so with pure and total grace. The nest now sits on our mantle, and will serve as a reminder that life, family, home, and experiences are built one small story at a time. To savor and write those stories down now and again, is a beautiful thing.
What is a memory you have that you want to keep close to your heart, as a piece of your life story? Can you take a minute to write it down today?